SERVO VOLTAGE STABILIZERS

Recurring Energy Conservation
Apart from voltage stabilization, ENERGX servo voltage stabilizers offer several energy conservation possibilities such as:
By optimizing voltage supply to lighting equipments up to 20% energy saving can be achieved along with increased life of bulbs, tubes and accessories.
For industrial consumption, similar savings is possible by optimizing the voltage supply to motors. The excessive heating and consumption of motors due to unbalanced voltage can be corrected leading to energy saving and long motor life.
Energx Servo Voltage Stabilizers
Energx servo voltage stabilizers consists of three basic components a motorized variable transformer, a buck boost transformer, and a controller.
Input power is applied across the motor driven variable transformer Which has a center tap that divides that variable transformer into bucking and boosting voltages areas.
The buck-boost transformer is a fixed ratio isolation transformer capable of high amperes at low voltage. The ratio of the transformer is determined by the amount of voltage needed to buck or boost the input line to maintain the specified output level. The buck boost transformer secondary is wired in series with the load and the primary is connected across the variable transformers "Center tap & brush terminals. Depending on which side of the "center tap" (the variable transformer brush is positioned, the variable/buck-boost transformer system will add to (boost) or subtract from (buck) the Input line voltage. The further the variable transformer brush is from the "center tap" the more bucking or boosting of voltage will occur.
The key to the proven reliability and long trouble free service life of a Energx Voltage Stabilizer is in the combination of a motor driven variable transformer With buck boost transformer technology.
Advantages
Quick, steady and accurate correction of voltage
Constant output voltage, despite load current variations
Balanced output voltage, irrespective of input unbalance
Overall energy saving 98% efficiency increased life of your equipment, reduced heating and minimal losses
24 / 7 Customer Support
Typical Applications
BROADCAST: Regulations for Radio and TV station transmitters, receivers, and mobile production vehicles
COMMERCIAL: High rise building whole floor regulation or power conditioning, input voltage regulation for elevator control and large A/C chillers
INDUSTRIAL: Process center power quality improvement, standard or customized test stands for product quality testing or design verification
MEDICAL: X-Ray, cat scan, and MRI Power conditioning
MARINE: Dockside or shipboard voltage regulation and bower conditioning.
CNC: Milling Machine, CNC lathes, EDM' & Printing Machines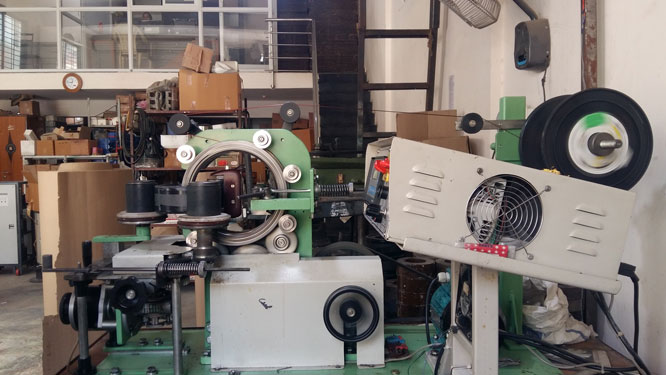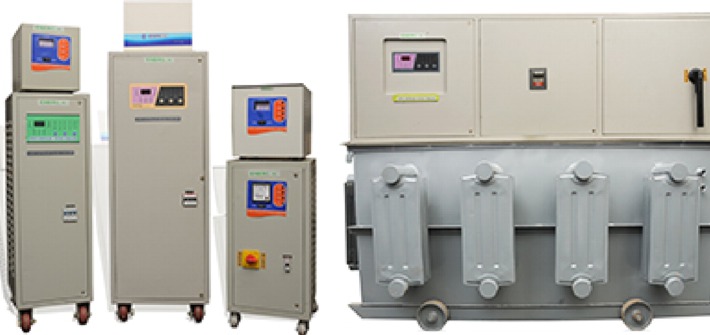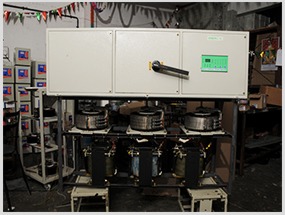 Specifications
SPECIFICATIONS

THREE PHASE

SIGLE PHASE

Capacity
3KVAto 1000 KVA
1 KVAvto 50 KVA
Narrow
360 v to 460 v
20 v to 270 v
Input voltage range
 
 
Normal
340 v to 460 v
195 v to 270 v
Wide
295 v to 465 v
170 v to 270 v
Extended
240 v to 465 v
140 v to 270 v
Output Voltage
380 v/400 v/415 v
220 v / 230 v / 240 v
System
Unbalanced
Unbalanced
Regulation
+/-1%
 
Efficiency
>98%
>98%
Input Frequency
50 Hz +/-3Hz
50 Hz+/-3Hz
Wave Form
Same as Input
Same as Input
Control Circuit
Microcontroller based with front panel Calibration
Microcontroller based with front panel Calibration
 
 
 
 
 
 
Motor drive
Heavy Duty AC Synchronous
Heavy Duty AC Synchronous
 
Motor
Motor
Correction Rate
70 v/sec
35 v/sec
Over Load PH
Mains On   Output On
Mains On   Output On
 
I/P Low/High
I/P Low/High
 
O/P Low/High
O/P Low/High
 
 
 
Metering
Digital display to read
Digital display to read
 
Input & Output Voltage
Input & Output Voltage
 
Output Current & Frequency
Output Current & Frequency
Operating Temperature
45 Degrees
45 Degrees
Duty Cycle
Continuous
Continuous
Nature of Cooling
Air Cooled /Oil Cooled
Air Cooled /Oil Cooled
Protections
Under Voltage & Over Voltage
Under Voltage & Over Voltage
 
Over load / short circuit & Phase Sequence
Over load / short circuit & Phase Sequence
Stabilizer Standard
As per IS 9815
As per IS 9815
Oil Standard
As per IS 335
As per IS 335
 

PRODUCTS

Variacs
2 Amps to 1000 Amps
Isolation Transformers
1 KVA to 250 KVA Air cooled & Oil cooled
Step-down Transformers
0.5 KVA to 250 KVA Air cooled & Oil cooled
UPS
1 KVA to 50 KVA Online & Offline UPS